HARVEST HOME: DEERNESS DISTILLERY AND HARVEST CELEBRATIONS
If you've been following our developments at all you'll know that we are in the process of expanding our premises so we can make whisky or whiskey, depending on country location 😉 yay! Below is an artists impression of the expansion – Whisky still house, cask storage / malthouse, café & shop with beautiful views out to sea!
Not up to date? Head to our May 22 blog and read all about our whisky developments.  So, we've had planning granted and we're working on the finer details, but in the meantime, we may just get a chance to party!  October is the traditional time for each Orkney Parish to hold it's 'Harvest Home' celebration.  A fabulous, fun blend of dinner, speeches, and dances for all the family and an event that has been missed for the last few years due to COVID-19 but is back in 2022.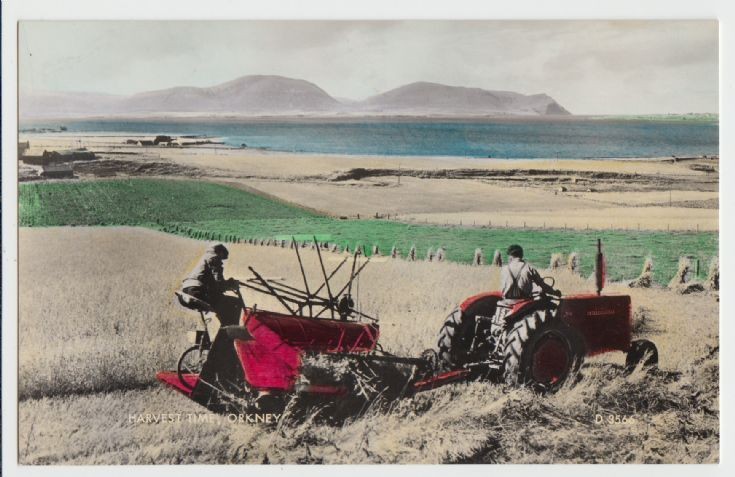 Harvest Home (which used to be called the Muckle Supper) traditionally marks the high point of the agricultural year, where successful harvesting gathering and storing of the harvest and certain rituals have been observed.  Our children all have a two week school holiday in October and I have always been under the impression that this was because it in the past the children would be needed to work on the farms and help gather the harvest, however I can't find anything to back that up, so you may need to just believe me on that one!
I love the way that the wind (often fierce) sways the golden barley in the fields as it's growing and at one time our islands were renowned for their golden crops across Europe and until the 19th century very little changed in the methods and equipment used.
NOT JUST BARLEY….
It's not just barley that's important in Orkney, oat straw is vital to the continuation of the ancient craft of furniture making, especially Orkney chairs.
The Orkney chair has no set design, it's made for a person by a person and is therefore individually handcrafted making it even more special!  Often the chair is low to the ground, this was originally to avoid the smoke from the open peat fire and the tall, curved back was to shelter the person from any draughts, not so important in a modern house.  A drawer may have been built into the chair if there was enough driftwood, just perfect for keeping that all important book or magazine to enjoy with your G&T 😊.
I can fully appreciate the work involved in making an Orkney chair or indeed any piece of Orkney furniture as I spent two days crafting a basket!!   I loved learning to do this and although I had notions of making a log basket afterwards, somehow, I've never gotten around to it 😉.
If you'd love to learn more about our important farming traditions head to Orkneyjar – Orcadian Harvest Lore and Tradition or fancy your own Orkney chair to enjoy your next Deerness Distillery G&T in head to https://www.orkneyhandcraftedfurniture.co.uk/
I'll be posting photos of our own Deerness harvest home on social media so keep an eye out … They'll definitely give you a laugh!!!
Until next time,

[/ux_text]